Oversized t-shirts are the perfect addition to your wardrobe. Not only are they relaxed, but they are also very versatile. All you need is a little bit of imagination to transform your oversized tees into the perfect chic outfit. However, many people struggle with styling an oversized tee. While styling an oversized tee, it is important to make sure that the nature of the tee doesn't overshadow your body, thereby giving an unflattering look. Here are some tips on how to style oversized t-shirts.
Knot it
If you want to generate a more feminine look, knotting the bottom of your oversized t-shirt can do the trick. This crafts a crop-top look without forgoing ease or coverage. One of the easiest ways to style an oversized t-shirt is to basically knot it. Gather the excess fabric at the bottom of the shirt, twist it, and tie it in a knot. This will immediately give your outfit an extra polished look. This style looks great with high-waisted jeans or skirts. Knotting can also be done at the side of the waistline, which will give a crop-top illusion.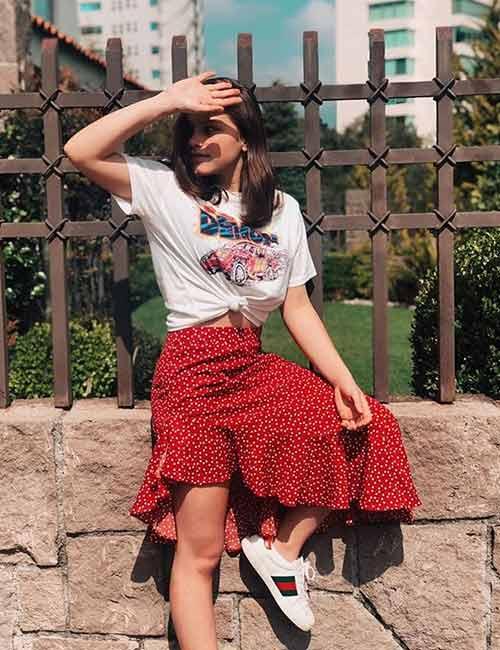 Tuck it
Another technique that can be used to give shape to an oversized t-shirt is tucking it into high-waisted pants, shorts, or skirts. Tucking can be done partly in the front or completely in the back. This will enhance the definition of your waist and produce a flattering silhouette.
Layer it
Layering your oversized t-shirt is a fun way to add dimension to your outfit. Consider adding a denim jacket or a bomber jacket to your outfit. For a more dressed-up look, a blazer or a leather jacket works well. If you're feeling daring, try layering different patterns and textures. Layering will add a fun and applied element to oversized t-shirts as they can be worn in any season with various kinds of layering outfits.
Belt it
Belting is another option that can be used to give shape to your oversized t-shirt. Choose a wide or bold belt that complements the color of your shirt. Place the belt over the t-shirt, either at the waist or just directly above the hips. This will highlight your figure and have you looking chicer in seconds. Belting will also help tuck the loose fabric in and give it a more fitted look.
Accessorize it
Accessorizing your oversized t-shirt is an easy way to make your outfit pop. For a casual look, layer some dainty necklaces, hoop earrings, and bracelets. For a more glamorous look, add statement earrings or a necklace that can steal the show. Hats are also a great accessory, as they make any outfit look extra put-together. Pair your oversized t-shirt with a sun hat or a fedora for summer and a beanie or knitted cap for winter.
Half-Tuck it
The half-tuck is the perfect mix of sophistication and ease. Half-tucking your shirt involves tucking the front half of your shirt while leaving the back free-flowing. This has an effortless, laid-back appeal. Half-tucking works best with denim or leather pants. For a bit of additional flair, try a slightly off-center tuck or scrunching the fabric behind the tucked-in area.
 Dress Up
Oversized t-shirts can also be styled as dresses. Pair them with leggings, sneakers, or boots for a relaxed, cute look. This styling practice is particularly perfect for summer when light layers of clothing are favored. Choose fabrics that are soft and flowy to guarantee that the look is not too boxy.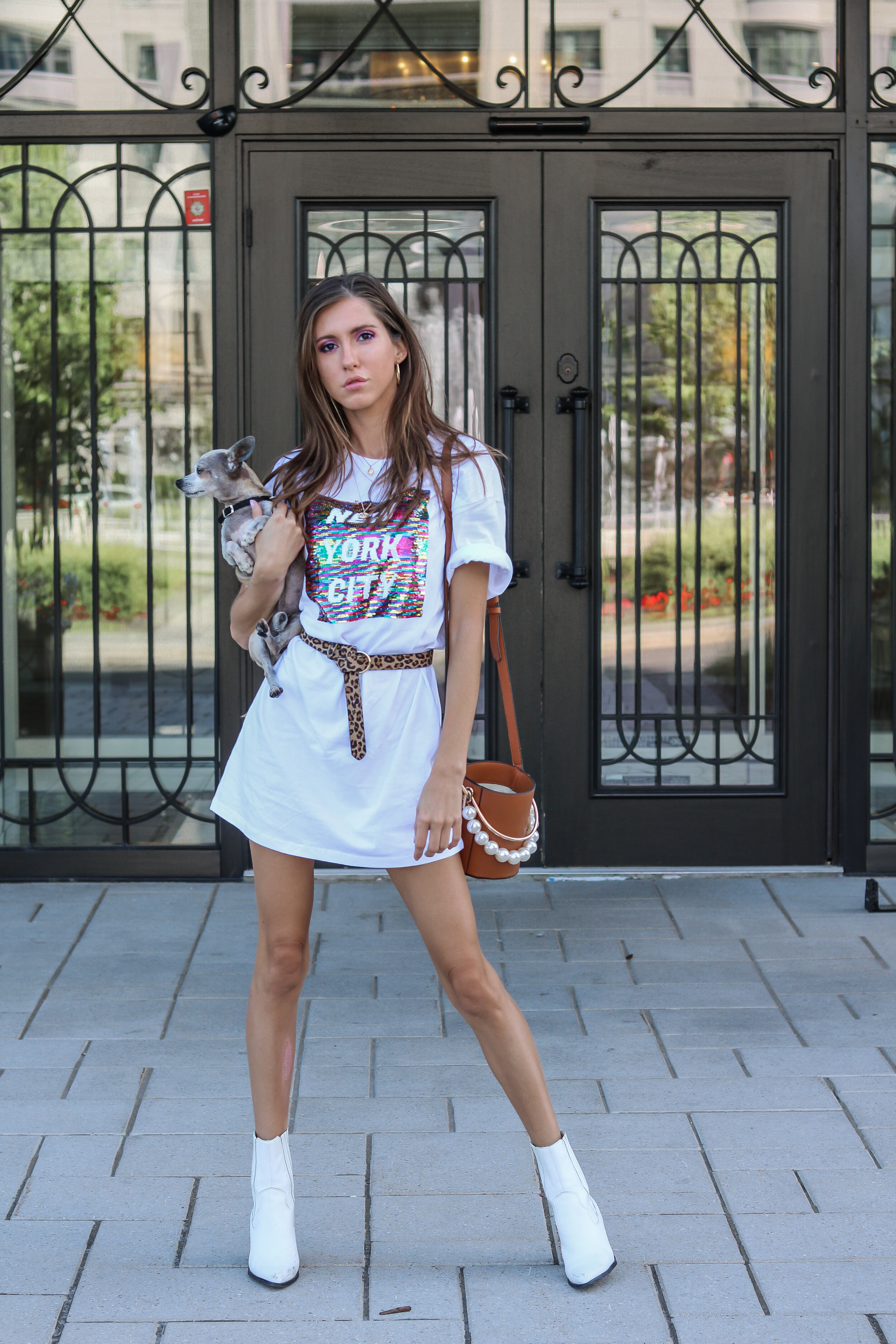 Pair with skinny jeans
Since the oversized t-shirt already adds volume to your outfit, it's essential to balance it out with something more fitted, like skinny jeans. This will help you invent a sleek and pleasing silhouette.
Roll up the sleeves
Rolling up the sleeves on your oversized t-shirt will help you create a more polished look. It's cooler to show off any accessories you are wearing, like bracelets or watches.
To sum up, oversized t-shirts are a useful addition to any wardrobe. They can be styled in several ways, depending on the occasion and your preference. Comfortable yet stylish, an oversized t-shirt is perfect for a snuggly day at home or a fashionable outing with friends. Try these tips to style your oversized t-shirt and enjoy the countless possibilities!
See Also: How to Style a Bodycon Dress When You Are Worried About Belly Pooch