Are you among those who are discomfited by the idea of leave-in conditioners? The constant presence of a certain product in your hair can definitely be a matter of concern. And it might be even more difficult for you to add leave-in conditioners to your haircare regimen if you already have a fixed routine in place. After all, we are creatures of habit, aren't we?
However, giving leave-in conditioners a chance to work their magic can prove to be quite beneficial for your hair. Trust me, your hair will thank you for taking the chance. Leave-in conditioners can get your hair back on track in no time. And they are a great add-on because it is not ideal to wash, condition, or blow-dry your hair every single day.
Normal or washable conditioners are definitely amazing as they moisturize and nourish your hair, but because leave-in conditioners stay in your hair, they provide further benefits such as protection from heat damage. Not only this, they tend to work on your hair follicles and improve the quality of your hair. Let's take a look at some of the best leave-in conditioners that will earn you more good hair days.
Amika Hydro Rush Moisturize Conditioner
The Amika Hydro Rush Moisturize Conditioner, as the name suggests, is very good for moisturizing purposes. The best part about this conditioner is that it has coconut water, which provides nourishment and refreshment to the hair. It pumps up the dull hair and makes it feel alive. Apart from coconut water, it also has hyaluronic acid, which is also found in face serums. It is known for faster healing and retaining moisture, which prevents the scalp and hair from drying. It is best for you if you have dry, frizzy, or rough hair and are looking for something to make your hair smoother. It can be used on straight, curly, or wavy hair, as well as fine, medium, and thick hair. Basically, it suits all hair types.
Sol de Janeiro Brazilian Joia Milky Conditioner
The Sol de Janeiro Brazilian Joia Milky conditioner is also known for locking in moisture and keeping your hair perfectly nourished. This is possible because of the Babassu oil present in it, which people in the forests use to cure wounds. It has some very good healing properties and is also known for volumizing the hair. The conditioner also has Brazil nut oil, which can help one's hair strengthen and prevent hair fall. Finally, cupuacu oil, which is undoubtedly an amazing oil for your hair, is also present. It helps parched hair by providing posture and promoting better hair growth.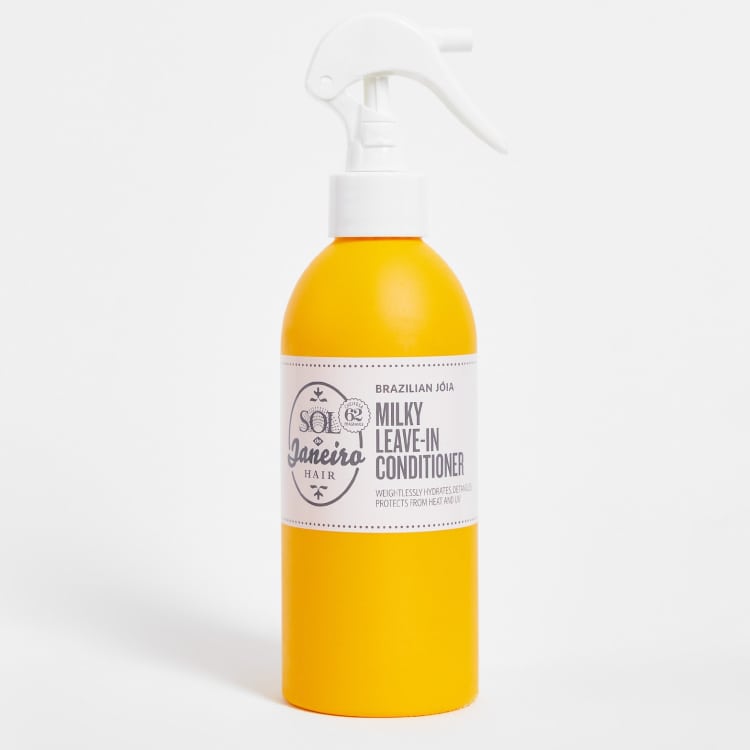 Melanin Haircare Multi-Use Softening Leave-In Conditioner
The Melanin haircare multi-use softening leave-in conditioners are genuinely good for several purposes. The highlight of this conditioner is that you can decide how you want to use it on your hair. You can decide to use it as a normal washable conditioner, a hair mask that stays on for a few minutes, or you can just apply it as a leave-in conditioner, and you are set to go! Another highlight we would like to emphasize is the fact that it has bamboo extracts. Bamboo extracts are rare to find in hair care products, but they are amazing as they provide several benefits. The first is that it smooths the scalp skin, and then it helps in better blood circulation in the scalp, leading to better quality hair and better hair growth. It results in thicker and shiny hair.
Davine OI All-in-One Milk Conditioner
The Davine OI All-in-One Milk Conditioner is one of the most amazing leave-in conditioners as it has great active ingredients like sunflower oil, which helps in removing frizz and providing nourishment. It also has glycerin, which is not heavy and does not pull down the hair. It also provides nourishment for your mane and plumps up the hair. It also helps in moisture retention and visibly protects the hair from heat damage, which is caused by straighteners or hair dryers. In order to use this conditioner, towel dry your hair after shampooing and spray 10–12 times until you have gotten the product on all sides properly.
Olaplex No. 6 Bond Smoother Leave-in Conditioner
This leave-in conditioner is loved by several celebrities and influencers and is suggested by many dermatologists and hair experts. It is known for having a great effect on damaged and frizzy hair. It provides them with moisturizing and nourishment and helps repair them. Our hair is known to have hydrogen-sulfur bonds, which are good for the hair. But, these bonds tend to break due to heat damage, which is caused while using straighteners, dryers, curlers, etc., and also by bleaching, dyeing, or the use of other chemicals on hair in any form. Now, the Olaplex No. 6 Bond Smoother Conditioner helps in relinking these broken bonds and improving your hair. It can also be used for styling and gives very good protection against heat damage of any sort.