Who doesn't know Heidi Klum? the famous model, television host, entrepreneur, and mother of four children. Heidi has a long history of being the cover girl for magazines like Vogue, Harper's Bazaar, etc. She's in her late 40s, yet she still looks much younger than her age, and people want to know how she does it. Although she has been vocal about her skincare regimen, we will discuss it thoroughly in this article.
Heidi Klum
Heidi Klum is a German-American model, television host, and entrepreneur who was born on June 1, 1973. She began her modeling career at the age of 18 after winning a national modeling contest in Germany. She gained fame in the late 1990s as one of the models of that era. Aside from this, she has hosted TV shows like "Project Runway," "Germany's Next Top Model," and "America's Got Talent."
Heidi also works with organizations including the American Red Cross, UNICEF, and the Elizabeth Glaser Pediatric AIDS Fund.
Personal Life
Heidi Klum has four children from two marriages. She was married to Ric Pipino from 1997 until 2002. She married Seal in 2005 after dating him in 2003. Seal adopted Heidi's oldest daughter from her previous marriage, and they had three biological children. Heidi and Seal divorced in 2014. Heidi started dating musician Tom Kaulitz in 2018 and got engaged on December 24. They married privately in February 2019.
Heidi Klum's Skincare Regime
This year, Heidi turned 49, but she still has the skin of a woman in her 20s. So, let's go ahead and unlock the secrets of an anti-aging skin care regimen.
Apart from having a very basic skincare routine, she tells us the steps to glow from within. At this age, she uses baby shampoo as a face wash as it is very gentle for the skin and removes everything. She then follows up with a thick moisturizer coat. And she never forgets the SPF. She says that a healthy skincare regimen is all about common sense and that she doesn't let herself become overwhelmed by the variety of skincare options, instead opting for a tried-and-true, tried-and-generic approach.
3 Unusual Beauty Tips
Using baby shampoo as a facial cleanser: She recently revealed that she uses Johnson & Johnson baby shampoo as a facial cleanser. When she comes home with a lot of eyelashes and makeup on, baby shampoo is her last rescue. It cleans out all the makeup and does not contain harsh products that will tear your skin.
Coconut Oil for Everything: Heidi loves using the plain version of coconut oil that you get from your local supermarket. She loves to lather it in her hair and on her body to make it more moisturizing when the weather is dry in L.A. She likes going all natural when it comes to our skin and bodies.
Popping pimples is good. Her approach to spot treatment is totally different. She likes to squeeze out the pimples to have nice, healthy skin. She further suggests that you should not pop your pimple with your nails but with your knuckles. She says that this thing helps her skin heal much faster after doing it.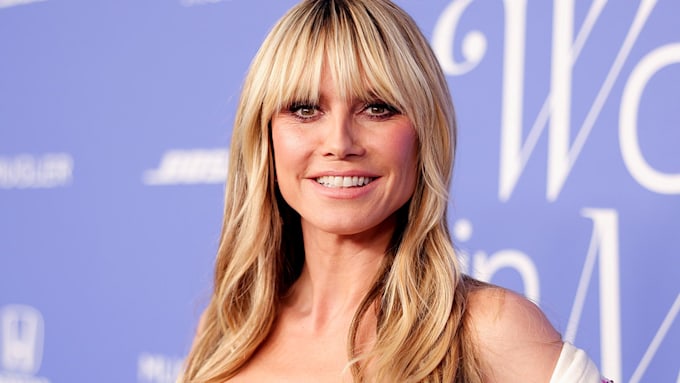 Moreover, she believes that less is always, always more. Even though she likes to get all dolled up for the camera, she likes to show more of her skin and uses a little or minimal makeup like a tinted moisturizer, mascara, and blush. And that's it; she likes the texture of her skin.
How does she maintain her skin?
To keep our skin healthy and nourished, she exercises four times a week and drinks a gallon of water per day. She also avoids smoking and excessive alcohol consumption and uses a daily moisturizer with SPF to protect her skin from the sun's harmful rays. She also practices yoga every now and then.
She's at a healthy weight since she eats well and exercises often. So, she adheres to a strict eating plan, which is favored by herself and other famous people like Kate Moss. She follows a diet based on the 80/20 rule. 80% of the time, she chooses healthy options and ignores the other 20%.
She tries to stay away from carbs at all costs. What you put within your body, she says, is much more important than what you put on it. Therefore, her meals usually consist of fatty acids, vitamins, and antioxidants. She also mentions that hydration is equally important as a healthy diet for good skin.
In addition to this, she also adheres to a strict supplement regimen, including the daily use of Perfectil. She also makes her children follow a healthy diet.
Products Used in Heidi Klum's Routine
When interviewed by Who What Wear, she mentioned using Dr. Hauschka Daily Hydrating Eye Cream. She further states that she has very sensitive skin and that this product is a miracle for a middle-aged female celebrity. From her latest photos, we can really confirm the cream works well on her skin. Another plus point about the scream is that it only retails for 55 dollars.
Klum takes her skincare very seriously, thus sticking to specific and basic products like Josh's Baby Shampoo and Vita Coco Coconut Oil.
Her favorite lotion has to be Mario Badescu Drying Lotion, as we have already discussed in the article about how much she loves hydrating her skin.
With this, I would like to say that your skincare routine doesn't have to include high-end products, even if you are a recognized celebrity. You just have to be specific about the products you choose. Using beauty tricks and tips is one thing; keeping a positive mindset is another. Heidi Klum is seen as being very optimistic about aging; she has a refreshing look at Hollywood stars aging. Nonetheless, she is very grateful for who she is today and how her skin looks, even at 49. Thank you for reading.