Flannel and fabulous—a match made in 2023 heaven! These outfits will have you strutting with confidence, leaving behind the days of 'This old thing? I've had it for years.' Say hello to the future of fashion as we embark on a flannel-filled journey, combining timeless classics with a touch of writer's wit. Let's flannel up!
1. Casual Brunch Bunch
For a weekend brunch with friends, opt for a flannel shirt loosely tucked into high-waisted jeans. Add chunky sneakers and statement earrings for a touch of edgy charm. Complete the look with oversized sunglasses to shield your eyes from the dazzling rays of both the sun and admiration.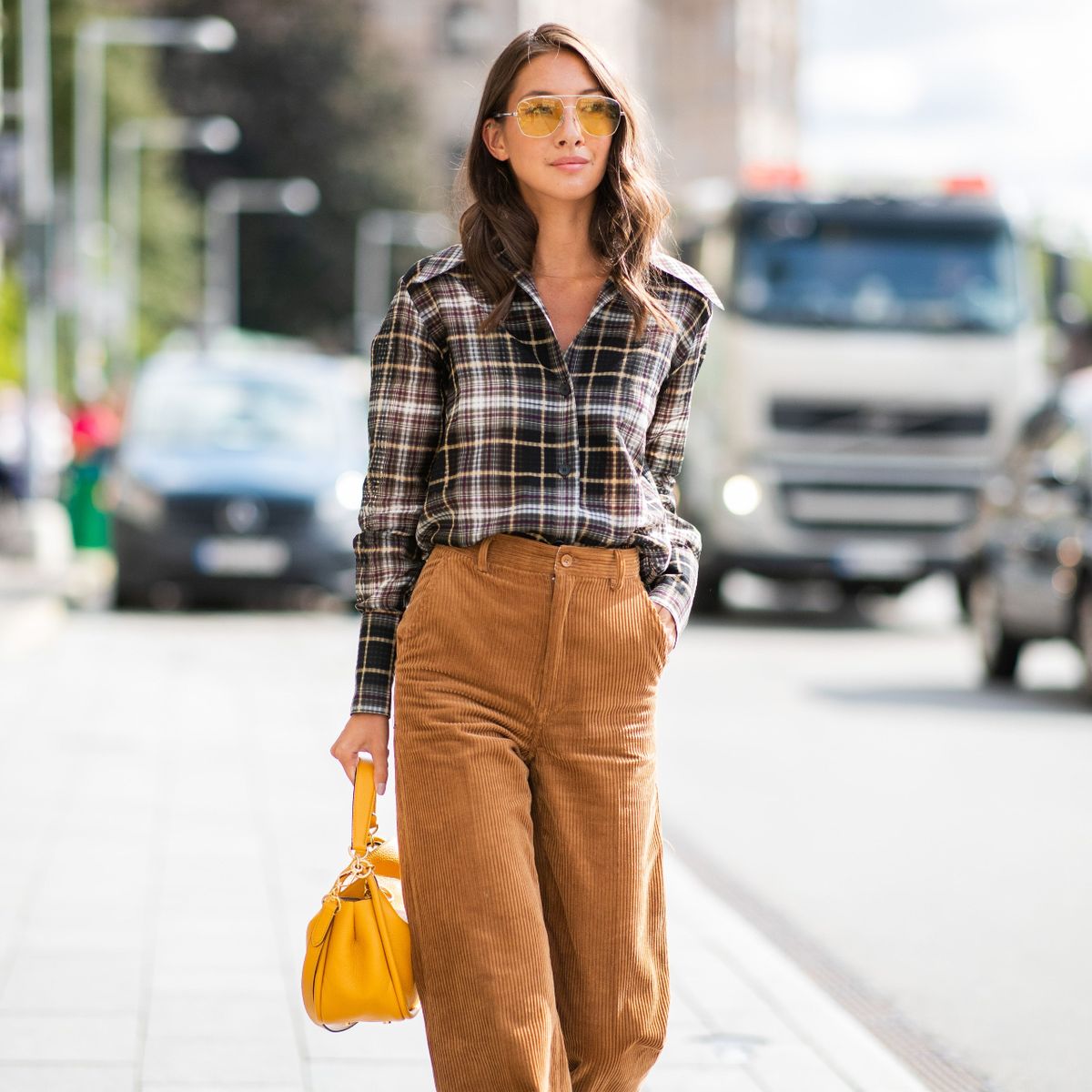 2. Office Chic, Reinvented
Tired of mundane office attire? Dress to impress by pairing a tailored flannel shirt with sleek black pants and kitten heels. Add a slim belt to accentuate your waist and an elegant watch for that boss vibe. You'll be the talk of the water cooler—in the best way possible.
3. Sporty Street Style
Combine flannel and athleisure for an effortlessly cool outfit. Layer your flannel over a graphic tee and tie it at the waist. Slip into jogger pants and white sneakers for a trendy, sporty look that's Instagram-worthy. Don't forget to smile, as street-style photographers are always on the lookout!
4. Date Night Drama
For a romantic evening out, wear a flannel shirt tucked into a sleek leather skirt. Throw on a statement necklace and ankle boots to add a touch of drama and flair. Your date won't be able to look away!
5. Glam Rock Diva
Embrace your inner rock star by pairing a studded flannel shirt with black skinny jeans and killer heels. Unleash your wild side with a bold red lip and tousled hair. Prepare to steal the spotlight wherever you go!
6. Beach Bonfire Boho:
Heading to the beach? Layer your flannel over a cute crop top and distressed denim shorts. Tie it around your waist for a relaxed vibe. Add a floppy hat and strappy sandals for the perfect boho beach look.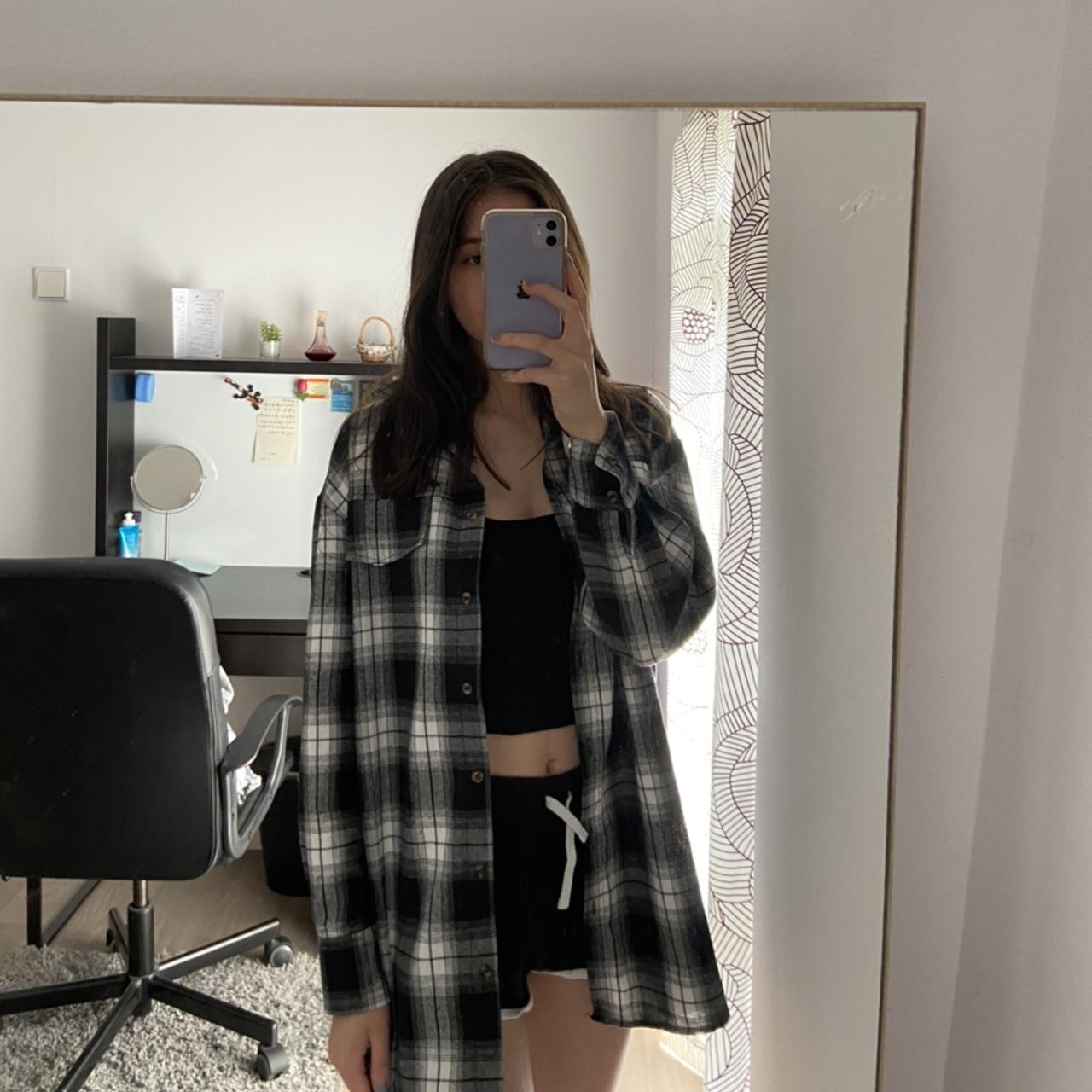 7. Winter Wonderland Wonder:
Don't stow away your flannel in the winter! Layer it over a turtleneck sweater and add a puffer vest for extra warmth. Pair with slim-fit jeans and knee-high boots. You'll be cozy and chic all at once!
8. Vintage Vixen
Thrift store lovers, rejoice! Channel retro vibes by pairing your flannel with a denim skirt and knee socks. Complete the look with a beret and round sunglasses. You're a modern-day Audrey Hepburn, darling.
9. Festival Freedom
Heading to a music festival? Opt for a flannel shirt dress, cinched at the waist with a woven belt. Slip into ankle boots made for dancing and embrace the carefree spirit of the event. Don't forget sunscreen and good vibes!
10. Girls' Night Galore
For a night out with your squad, wear your flannel shirt as a tied crop top over a sequined mini skirt. Add some chunky jewelry and platform heels for extra glam. It's time to dance like no one's watching!
11. Backyard BBQ Babe
Grill and chill in style with a flannel shirt worn over a graphic tank top. Pair with distressed shorts and comfy espadrilles. Toss on a wide-brimmed hat and shades for that effortlessly chic outdoor look.
12. Monochrome Magic
Go for a monochromatic look by pairing a black flannel shirt with black leggings and combat boots. Add a pop of color with a bright scarf or bold lipstick. You'll be an enigma of elegance and intrigue.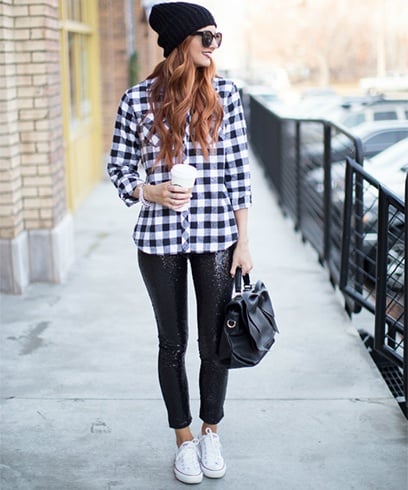 13. Art Gallery Glamour
Dress up for an art exhibition with a flannel shirt tucked into a pleated midi skirt. Elevate the look with ankle-strap heels and delicate gold jewelry. You'll be the masterpiece that everyone is admiring.
14. Fitness Fashionista
Elevate your gym attire with a flannel shirt tied around your waist, paired with high-waisted leggings and a sports bra. Throw on some neon sneakers for a touch of 2023's retro fitness craze. Work it out in style!
15. Cottagecore Cutie:
Embrace the cottagecore aesthetic with a flannel shirt worn as a shacket (shirt + jacket) over a cozy sweater. Pair with wide-leg corduroy pants and ankle boots. Now you're ready to roam through flower-filled meadows!
"Flannel fashion knows no bounds in 2023! From brunch to bonfires, the office to the outdoors, there's a flannel outfit for every occasion. So, don't let your flannel gather dust in the back of your closet—embrace its versatility and wear it with pride. Get ready to turn heads, break hearts, and redefine what it means to be 'flannel fresh'!"