Putting on the quarantine 15 lbs? Then, you need to download one of these twelve apps for the best workout from home. WFH might be challenging with interrupting kids, partners, and pets ( we feel you), but working out doesn't have to be. These workout apps are fire; you no longer need a state of the art gym or personal trainer! You can have the best workout right from your living room. So break-out the tennis shoes, dumbbells, and yoga mat. It's time to break a sweat and re-find your happy place.
*Don't forget almost every workout app offers a free trial.
12. SWEAT by Kayla Itsines
Kayla Itsines has been transforming women's bodies with her SWEAT app, which offers various workouts and nutritional plans. She gained a lot of hype for her BBG (Bikini Body Plan). There also other workout plans from other trainers. You can elect weights or no weights, strength training, yoga, and even a postpartum program. The cost is reasonable at $20 a month or $5.00 a week. The app tracks your goals and your progress is shareable. If you are shopping for the first time for a fitness app, SWEAT is a good start.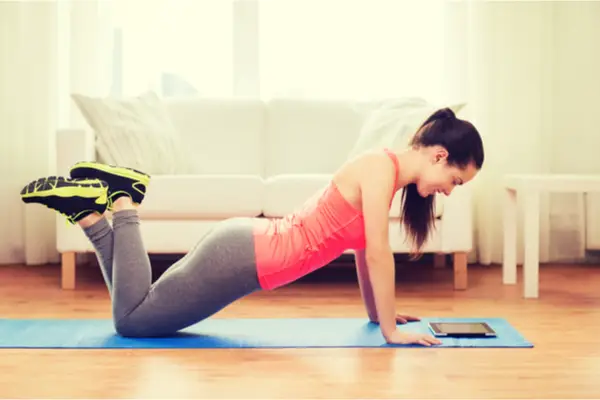 11. Zombies, Run!
Let's face it, it takes an apocalypse to get some of us running. Zombies, Run! is genius and one of the best running workout apps. It is an immersive running experience/adventure created by the award-winning novelist Naomi Alderman. How it works: you can run, walk anywhere in the world, while listening to your music AND your mission. However, you'll have to speed up if you are chased by zombies. You collect survivor supplies along the way. There's over 200 missions to choose from. It costs between $3.00-$7.00 bucks and is available for apple and android products.
10. Jillian Michaels:The Fitness App
Jillian Michaels is a fitness queen. If you are tired of bootlegging her workouts off of YouTube. Download Jillian Michaels:The Fitness App and her CUSTOMIZABLE.workout and nutrition app. You can choose short term or long term plans for 30,60,90, or 365 days. Some workout examples include "Booty Boot Camp," "Slim 60," and "Bikini Body." Subscription is about $14 a month or $179 for the whole year.
See Also: How to Celebrate National Yoga Month like a Pro in Nyc
9. Down Dog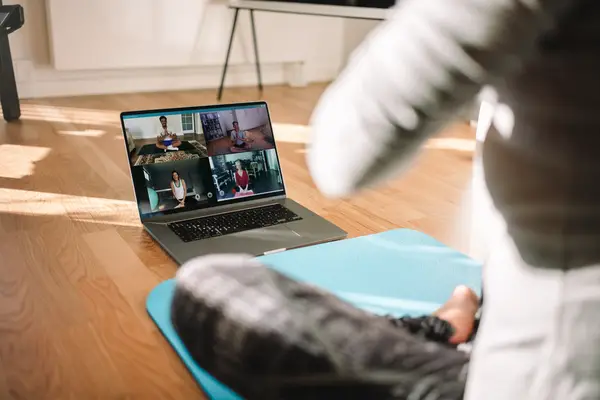 Down Dog is one of the leading yoga apps. Down dog is a non-intimidating gateway into yoga, open for both beginners and experienced practitioners. They have endless content ranging from 10 to 110 minutes. Subscription costs $7.99 a month or $49.00 per year. You can customize your class including the music.
After you come out of child's pose, be sure to read 11 Best YouTube Yogis to Follow and Learn From.
8. Centr by Chris Hemsworth
Aussie Hottie Chris Hemsworth has taken advantage of Covid-19 and he has our full attention. His fitness app will have your working out like Thor from home or just drooling like a big fan girl… Centr costs has multiple subscription plans to choose from. 12 months costs $112.00
See Also: Equinox vs. Nysc
7. Nike Training Club
If you are looking to get stronger for FREE, then the Nike Training Club App is the best workout app for you. (You won't feel pressure to opt in for a subscription.) It has been voted a good cardio and weight loss app. Sessions include 15 to 60 minutes, with least 185 completely free class to stream.
6. NEOU
NEOU is a unique fitness app. It curates live and on-demand classes from fitness influencers and brands. Take everything from a boot camp, boxing, dance, and meditation. This app is legit. You'll feel like you have paid for a boutique fitness class right from your home. Choose from equipment based or no equipment and anywhere from 5 to 90 minutes. It also works well with smart TVs. Subscription price $7.99 a month or $79.00 a year.
5. Pure barre
Miss that barre workout and your lean physique? Download Pure Barre Go for a total body workout. Enjoy live classes or on-demand. It's $29.99 a month but the amount of plies will you pay you back when you look fab in your leggings.
4. City Row Go
You may have noticed that treadmills have disappeared from the market. It may be time to purchase a rowing machine for the home. You can find an expensive one for around $250.00. They are relatively quiet and will not take up a lot of space.
Rowing is the new spinning and arguably, is much more efficient workout. This boutique fitness company has launched an app with its trainers and full length classes. Don't worry you won't have to row the entire 60 minutes, there is strength training exercises included in between erg pieces. Enjoy your HIT workout and goodbye Peleton. The City Row GO subscription is about $20.00 a month. They also offer a summer package on their own rowing machine.
3. Mirror
When you are not using it, it's a full length regular mirror. While working out you can see yourself as well as your trainer and/or any classmates. Choose from endless types of workouts. This is the Black Mirror workout app of the future for sure. The mirror itself costs $1,495 and the Mirror App subscription is about 40 bucks and currently only works with ios.
2. Daily Burn
Daily Burn like SWEAT is super popular and accessible. You can stream on your phone, tablet, and smart TV. Subscription is about $15.00 a month.
1. FitOn
FitOn is my absolute favorite workout app and it is FREE!! I have instructed all my friends to download. Choose from a variety of workouts in strength training, barre, yoga, HIT, and more. You can sweat anywhere from 11 minutes to 30 minutes. Trust me, just ten minutes is a great workout. They also have celebrity trainers like Julianne Hough and Jonathan Van Ness. Super fun!
Read Also:
15 People Share Their Fitness Motivation Tips
Workouts on Youtube to Keep Your Booty Toned Without Leaving Your Apartment
The Best Personal Finance Apps for Ballin' on a Budget
33 Music Tracks to Help You Get Through a Tough Workout